Elastic Watch Strap for samsung galaxy watch active 2 46mm 42mm strap gear s3 frontier amazfit bip strap 22 mm
PRODUCT GUARANTEE
Payment can be made securely through PayPal along with Buyer Protection policy.


Free Shipping on Orders $59+
Worldwide Shipping
30 days Easy returns
Text: 626-375-5015 9am-6pm PST Los Angeles, USA
Elastic Watch Strap for Samsung Galaxy Watch active 2 46mm 42mm Strap Gear s3 Frontier Amazfit BIP strap 22mm
Best luxury premium Samsung watch bands fashion, to match your Samsung Galaxy Watch! Our adaptor connectors, lugs, claps and buckles are made of durable stainless steel for long term use.
Most of our replacement wristbands are not found in stores near you.
This beautiful strap design is available in an amazing array of colors: green checkered, yellow chevron, purple floral, brown leopard, white leopard, red checkered, beige jaguar, pink chevron, solid black, rainbow, multi-color stripes, blue-pink abstract, blue waves, peach floral, black checkered, teal chevron, purple chevron, solid gray, charcoal black, solid mint, gray chevron, solid pink, black sunflower, teal abstract, black and white, charcoal sunflower, light blue christmas, light green christmas, white christmas, dark green christmas, maroon christmas, pink silk velvet, black silk velvet, tan silk velvet, red silk velvet, blue silk velvet, green silk velvet, lavender silk velvet..
Connectors of high quality durable fade resistant nickel free stainless steel metal. This stainless steel link does not fade, rust or discolor.
MATERIAL: Cotton,Polyester, Stainless steel. The scrunchie Watch band relaxed length is about 15.3cm, which is slightly looser if you have a smaller wrist.
NOVEL DESIGN: This scrunchie band is the perfect accessory for your watch, keychain, or hair tie. Thick elastic perfect for your wrist size, there are also a variety of classic prints for you to choose from.
COMPATIBLE MODELS: Compatible with Samsung Galaxy Watch 20mm/22mm.
EASY INSTALLATION: Elastic Samsung Galaxy watch band is designed with double button insurance of folding clasp on both sides. It comes with refined steel connectors, easy to take off and install, which lock your watch precisely and securely.
1x watch band only (Does not include the Samsung Galaxy watch)
Which mm size would you choose for your band:

Watch3 41mm choose - 20mm
Watch3 45mm choose - 22mm
Samsung active & active 2 40mm/44mm choose the 20mm band
Samsung Gear Live 22mm
Samsung Gear S2 classic 20mm
Samsung Gear S3 frontier & classic 22mm
Samsung Gear Sport 20mm
Samsung galaxy 40mm - 20mm
Samsung Galaxy Watch 42mm 20mm
Samsung Galaxy Watch 46mm 22mm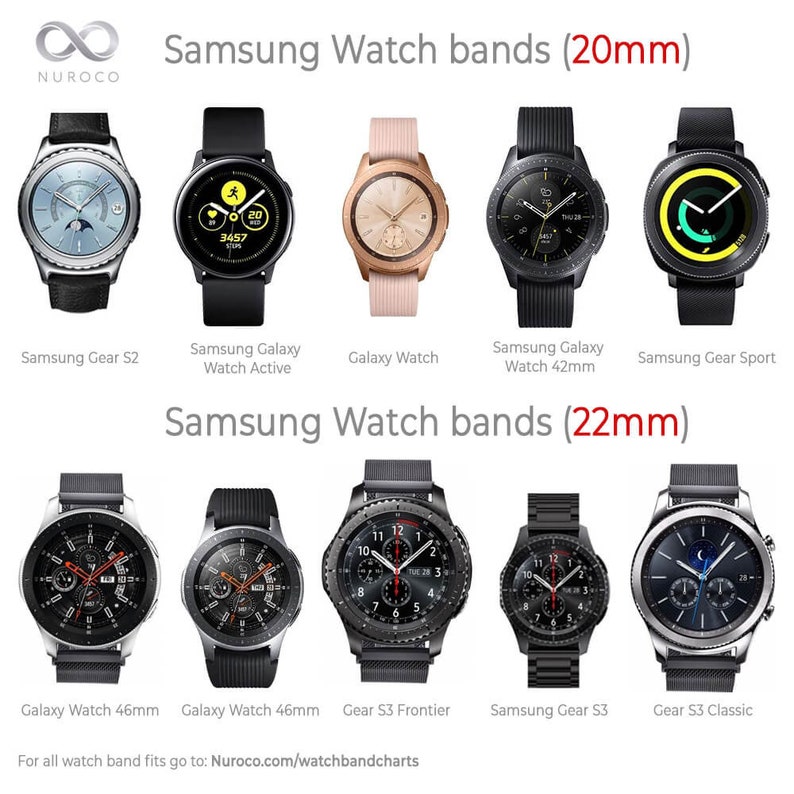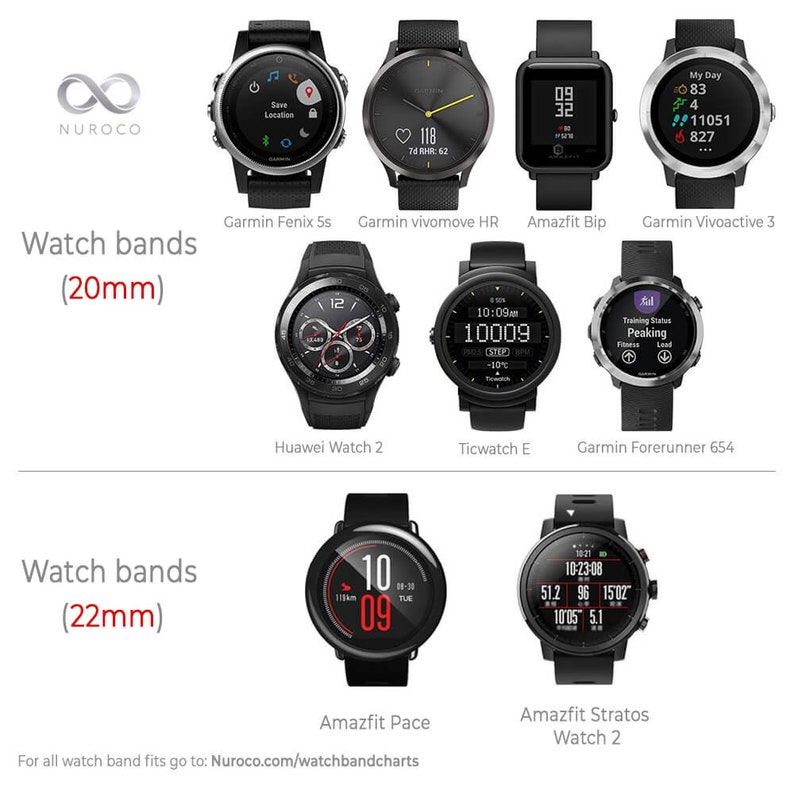 OUR PROMISE TO YOU
OUR PRODUCTS ARE
Luxury Apple products, iphone cases,  jewelry and Fashion 
Affordable High quality material & Styles
Innovative Smart fashionable Complementary Accessories
SHIPPING
US USPS Fast shipping titled products, ships average 3-7 days
All other products ship Standard intl shipping averages 10 days
Worldwide shipping depending on location Average 10-15 days
We process the same day. All days are are business days.
24 hour response time to emails
Contact Us
For any questions feel free to reach out to us at hello@nuroco.com 
Inquiries or phone orders please Call or text:  626 375 5051 
SAFE & SECURE PAYMENTS
We use encrypted SSL security to ensure that your credit card information is 100% Protected
The safety and security of your account information is a priority for us. This Store does not sell or rent any of your personal information. We use top notch industry standard technology and controls to help ensure the security of your financial information, both during transactions and while stored on our servers and in our offices.
Recently Viewed Products