Men Genuine Leather Military Watch Strap (3 Rings) Design Band Stainless Steel Buckle Watchband 18 22mm|Watchbands|
We have run out of stock for this item.
PRODUCT GUARANTEE
Payment can be made securely through PayPal along with Buyer Protection policy.


Free Shipping on Orders $59+
Worldwide Shipping
14 days Easy returns
Text: 626-375-5015 9am-6pm PST Los Angeles, USA
Men Genuine Leather Military Watch Strap (3 Rings) Design Band Stainless Steel Buckle Watchband 18 22mm |Watchbands|
USA order Shipping: USPS ground averages 2-9 business days after processing. Our current processing time for Apple watch bands is about 7-10 business days. Estimated delivery is about 2 business weeks after purchase. Please place an order if you are fine with this time frame.
Worldwide Shipping: Non US orders and US minor outlying islands ships worldwide China post from our Asia warehouse. Worldwide estimated shipping is 3-4 weeks.
NurocoCom is a well known reputable brand. We have over 4 million monthly views on our Pinterest nurocostyle.
This beautiful strap design is available in the following colors: Black, Dark Brown, Light Brown
Fits for wrist sizes :  6" - 10.3" wrist.
Which mm size would you choose for your band:
For Samsung active & active 2 40mm/44mm - choose the 20mm band
For Samsung Gear Live - 22mm
For Samsung Gear S2 classic - 20mm
For Samsung Gear S3 frontier & classic - 22mm
For Samsung Gear Sport - 20mm
For Samsung galaxy 40mm - 20mm
For Samsung Galaxy Watch 42mm - 20mm
For Samsung Galaxy Watch 46mm - 22mm
Thank you for being our customer. We stand behind our products. Our goal is to provide you the best service we can. We are grateful and honored to do business with you. We respond quickly. If you need help with anything just send us a message. 
Email: hello@nuroco.com  Text us @ 626 375 5051 (M-F 9am - 5pm PST)
Love,
Nuroco.com
>>>>> To receive a 10% coupon subscribe to our email list here >>>:
https://nuroco.com/pages/exclusive-deals
https://www.pinterest.com/nurocostyle/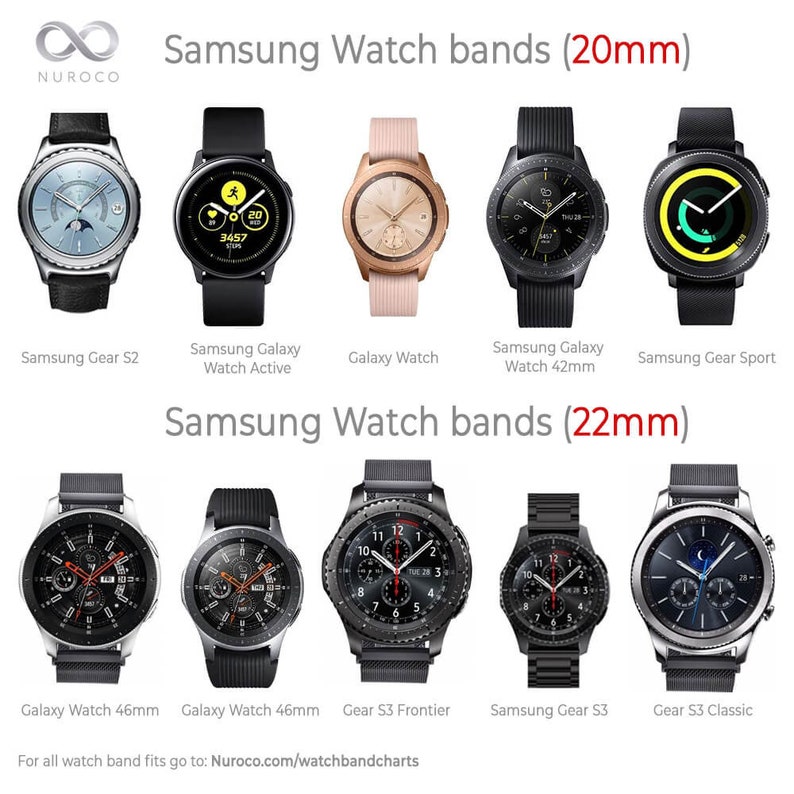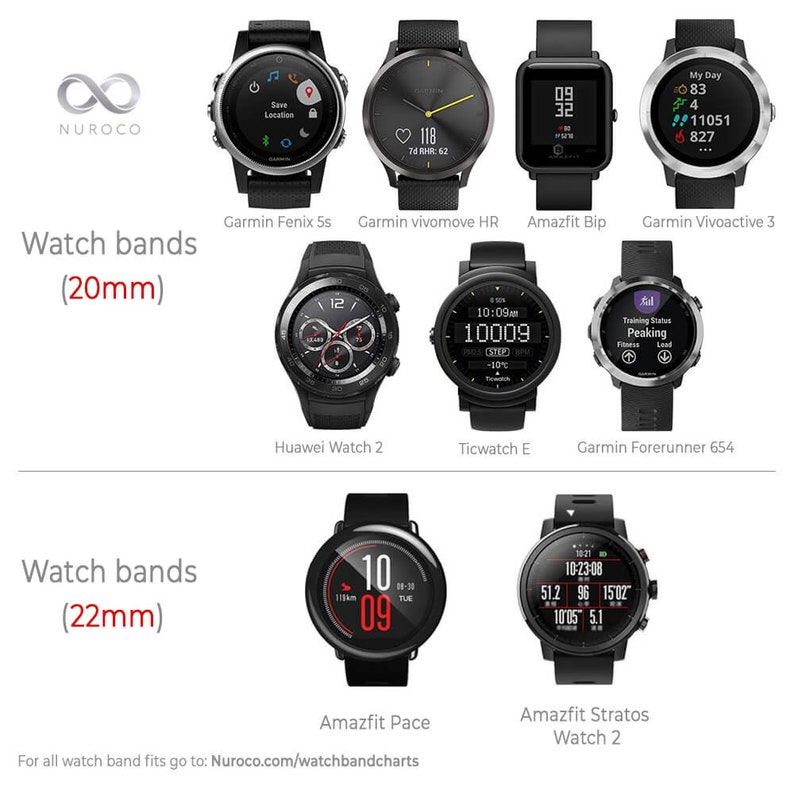 OUR PROMISE TO YOU
OUR PRODUCTS ARE
Luxury Apple products, iphone cases,  jewelry and Fashion 
Affordable High quality material & Styles
Innovative Smart fashionable Complementary Accessories
SHIPPING
US USPS Fast shipping titled products, ships average 3-7 days
All other products ship Standard intl shipping averages 10 days
Worldwide shipping depending on location Average 10-15 days
We process the same day. All days are are business days.
24 hour response time to emails
Contact Us
For any questions feel free to reach out to us at hello@nuroco.com 
Inquiries or phone orders please Call or text:  626 375 5051 
SAFE & SECURE PAYMENTS
We use encrypted SSL security to ensure that your credit card information is 100% Protected
The safety and security of your account information is a priority for us. This Store does not sell or rent any of your personal information. We use top notch industry standard technology and controls to help ensure the security of your financial information, both during transactions and while stored on our servers and in our offices.
Recently Viewed Products